American Sheet Metal Equipment is the machinery component division of Custom Rollform Products, Inc. For over 40 years C.R.P. has a history of designing and making a full line of quality Special Automated Sheet Metal Fabrication Systems. Through A.S.M.E. these same high-quality machines can be integrated into your System for a wide range of applications.
Located in St. Louis, Missouri U.S.A., A.S.M.E. Inc. has been producing machinery for the metal fabrication industry. Our design and engineering team, along with the skilled craftsmen that build A.S.M.E. machines, have years of experience. They use the latest state of the art technologies, while continuously developing new designs and ideas into products that are in use worldwide today.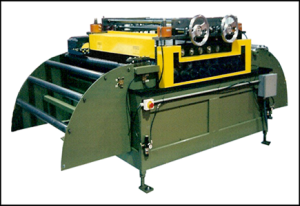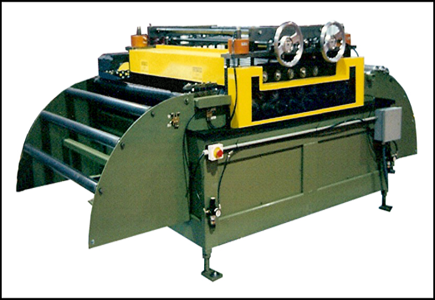 Do you have a standard part or are developing a special application? You will find our sales, service, and engineering staff eager to help provide the solution you need. A.S.M.E. also makes a full line of Decoilers and Multiple Coil Payoff Systems at reasonable prices.  Optional Coil Cars and Coil Upenders up to 25,000# capacity are also available.
We design and make a wide range of Destack and Feed Applications, Sheet Stackers and Stack Towers to meet all your production requirements. We design and make Feeder Straighteners for a wide range of applications.  Our Rollfeeds and Feeder Straighteners can integrate into your System using a variety of Drives and Programmable Controls to fit your needs. A.S.M.E. can also build Inline Notching and Punching Systems, Rollforming, and Tangent Wingform / Endform Equipment. We also build Special Spot and Seam Weld Systems, and Toggle Lock Assembly Units.

No matter what your needs are from a simple retrofit, a retool, a Free Standing Decoiler, a Straightener, to a complete turnkey System, I am sure we can meet your needs.
Our Commitment
I believe you will find we are large enough to handle your every production need. Yet we are small enough to give every customer and job the personal attention to detail they deserve. Our slogan "Quality Design Means Production You Can Afford", still holds true. Price does not always determine the best. We maintain a constant effort to achieve the best design, technology, equipment, and service. Let us show you our best. It may be the best move you ever made.